Seruput ( Ahmad Dahlan )
Jl. KH. Ahmad Dahlan No. 45 Jakarta Selatan
+62 021 725 9051
Book Now!
Operation Hours
Monday, Tuesday, Wednesday, Thursday, Friday, Saturday, Sunday
10:00 - 22:00

Seruput which is located at Ahmad Dahlan, South Jakarta offering a concept that emphasizes delicious flavor to any kind of food that they served. Groups that have been previously set up several restaurants such as Takigawa and Meat Bar is always focused on the taste, so unquestioning how taste every menu presented by the top Chefs here.

A sheet of paper that claimed to be the menu list is also quite thought-provoking laughter, it looks like a newspaper with funny pictures plus a unique menu names such as Rujak Merem Melek, Kue Cubit-cubitan, Kue Rangi Senggol-senggolan, and Es Krim Kayak di Orchard. If you want to eat a heavy authentic Indonesian meal here, they also provided any kind of rice and soup.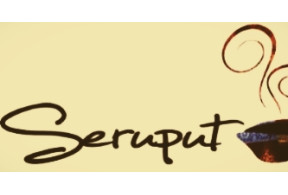 Extra Services
Buffet
Event Activity
Live Acoustic
Musholla
Parking
Teras
Wifi