Commune Cafe & Bistro
Jl. Suryo No. 25 Senopati Kebayoran Baru (12180)
+62 021 72789913
Book Now!
Operation Hours
Monday, Tuesday, Wednesday, Thursday, Sunday
10:00 - 23:00

Friday, Saturday
10:00 - 01:00

Located at Jl. Suryo No. 25, South Jakarta, Commune Cafe & Bistro offers a menu in the middle of the western gallery of paintings, wooden ornaments, unique lamps and other artistic crafts.

The main area is the place to be seen and enjoy the lively atmosphere smack bang in the centre of all the hustle and bustle as you are enveloped by the open kitchen, open bar and private dining rooms; simple and clean with wooden floors, tables and chairs. Those looking for a more private and intimate experience, do ask to be seated in one of the private dining rooms, one benefiting from natural light and a ceiling mural of a black naked tree and draped black cord intertwined with hanging orb like lights.

Their smaller menu of both food and drink is a testament to their belief in providing quality over quantity. If a quick lunch is on your agenda, take advantage of their lunch deal which includes Commune Nasi Goreng with Satay Lilit and an Iced Tea. Or maybe you fancy a dinner and beer with the boys as you wait out traffic; have a pizza and two Hoegaardens. Commune aims to be a place where friends can meet and enjoy good quality food that is good for you at a good price.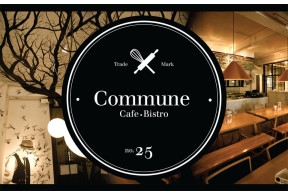 Extra Services
Bar
Meeting Room
Parking
Private Event
Valet
Wifi